Listen, Sing, Speak!
Listen, Sing, Speak
Children's Songs for Speech, Language & Hearing Goals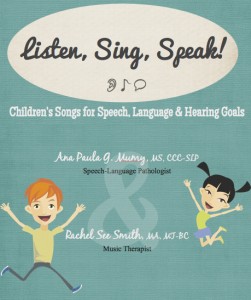 CLICK BELOW to purchase and receive your INSTANT .pdf download for only $14.95!
close
***FYI: After you purchase via PayPal, you are provided with a link to download your e-book. Be sure to download the book right away, as the link expires 24 hours after purchase. Please feel free to email us if you have any questions: listensingspeak@gmail.com)*** 
Here are all of the exciting tidbits about the now-available e-songbook:
Double the authors = double the ideas!

Co-written with the wonderful Ana Paula G. Mumy, MS, CCC-SLP, a speech-language pathologist out of Colorado Springs  (The Speech Stop)!
This new e-songbook is chock-full of songs, resources, audio files, lyrics, and session materials!
80 FULL COLOR pages
Specific speech targets are listed for each of the songs
Several songs have both English and Spanish versions!
    Ready to buy?  CLICK BELOW!
Want to know more about Ana Paula and myself?  Click on our "meet the authors" page below!