Both Rebecca and Rachel will be traveling to Jacksonville, Florida, this week to attend the American Music Therapy Conference (AMTA).  We look forward to learning, connecting with other music therapists, and gathering new, fresh materials, songs, and instruments to use in our future sessions!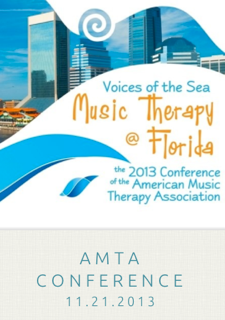 For fellow music therapists, Rachel will be presenting on a panel Saturday afternoon, 3:45pm – 5:15pm (see the conference schedule for more details), if you want to stop by and say hello!
Additionally, Rachel has created a
FREE

conference app for you to use while you're there.  To download, head on over to: 

http://my.yapp.us/AMTA13

.

Also, as part of her duties of being on the AMTA social media committee, Rachel created a
FREE

.PDF for you to use at conference.  To download, head on over HERE: 

http://amtanationalconference.com/amta13-handy-handout/
Happy trails!
Want to have a mobile schedule, meet other music therapists, share pictures, and be a part of the twitter feed?
Click below for the FREE American Music Therapy Association National Conference App!

*Created by Rachel See & approved by AMTA*
http://my.yapp.us/AMTA13
Step-By-Step Guide to Using the AMTA Conference App
With your tablet and/or mobile device, click on this link: http://my.yapp.us/AMTA13
You will automatically be directed to the YappBox app
Download the app and upon completion, open the app
Click on "I received an invite to a Yapp"
The AMTA conference app should automatically download!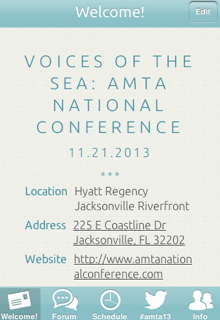 Please feel free to use this app to:
Have a mobile, mini-version of the conference schedule
Meet other music therapists through the Forum tab
Catch up on AMTA conference tweets –> click on the Twitter tab
Post your favorite pictures from the sessions and/or events this weekend!
Note:  Please keep in mind that the sessions, speakers, and room numbers are subject to change. Additionally, use the forum and twitter with respectful language/content. Thanks!