Tag Archives:
Speech therapy
 Co-Treatment: Music Therapists & Speech-Language Pathologists

First of all, I just want to say that I feel incredibly honored to be one of the instructors on MusicTherapyEd.com!  There are some truly fabulous courses on this site.
Here is a quick, 5-point run-down of the course I'm offering.
1.  Speech-Language Pathology basics (SLP education, job duties, populations they serve, common speech/language disorders)
2. Ethics involved in co-treatment and collaboration
3. Session ideas!
4. SLP perspective on music therapy: their questions, ideas, perceptions
5. Goals and objectives conducive to a successful SLP/MT collaboration with clients who are working on receptive and expressive language skills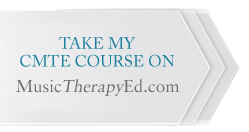 If you're looking to fulfill your continuing education credits for this cycle, or if you are just interested in the topic, head on over to THIS SITE to check out the course!! 🙂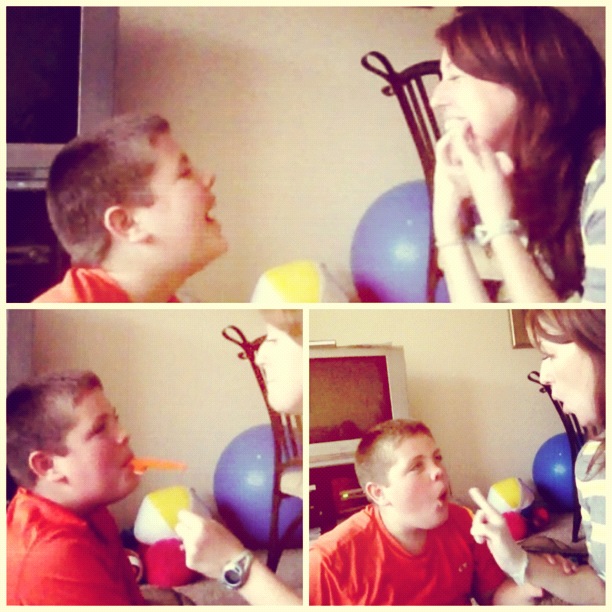 PS.
You can watch a preview and download a .pdf to help you decide if the course is for you!
 See you there!
CD Review:  Songs for expressive and receptive language skills!
[pk_drop_caps type="1″ color=""]I[/pk_drop_caps]  recently connected with a fellow music therapist, Margie LaBella from Music Therapy Tunes,  and boy, was I impressed with her website and all of the resources she had available to music therapists, professionals, and parents!
She kindly gave me two of her CDs to review and the following are my thoughts on each album, "Move!" and "Sing!"
As someone who frequently works with children who have communication disorders (expressive and/or receptive language skills), I was immediately interested in learning about an additional resource that could be used by myself or the SLPs with which I work, to further enhance and support the speech and language skills the children were learning in their music therapy, as well as speech/language therapy sessions.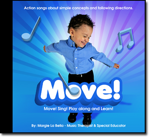 Move!
While the songs on this CD have their primary focus on building receptive language skills, they are also great for gross motor movement goals!  Each song is engaging and showcases a variety of instruments, backgrounds, and vocals, capturing the interest of all listeners.  The songs require the child to focus and listen for the directions how they can move next.  Multi- and single-step songs are included, catering to those at various developmental stages.  Some of my favorites?  "Doin' the Robot Dance" (kids will LOVE the robot voice) and "Move and Stop" (kids adore songs that require them to "freeze" or "stop" when the music stops).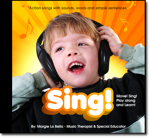 Sing!
This album is designed with expressive language skills in mind, allowing the child to become motivated to speak and practice their language and articulation through the catchy songs and beats provided on the disc.  The first track, "Open Your Mouth and Say Ah", incorporates each vowel sound and because of the repetition, allows several trials and opportunities for them to practice the pronunciation and the oral motor skills necessary to produce these sounds.  These skills are then further developed in the next song, using the vowel sounds to sing like a monkey.  "The Animal Song" is written in a call and response style, making it motivating for the child to repeat each line the therapist sings.  Finally, "Tap it on Your Foot" is one of the catchiest songs on the album and will be sure to stay with you the rest of the day! 🙂