I've written about using the iPad in my music therapy sessions before

(see the blog post HERE)

.  There are many reasons as to WHY and HOW the iPad can be used in sessions.  This post will focus on the WHAT.  What apps do I find most useful?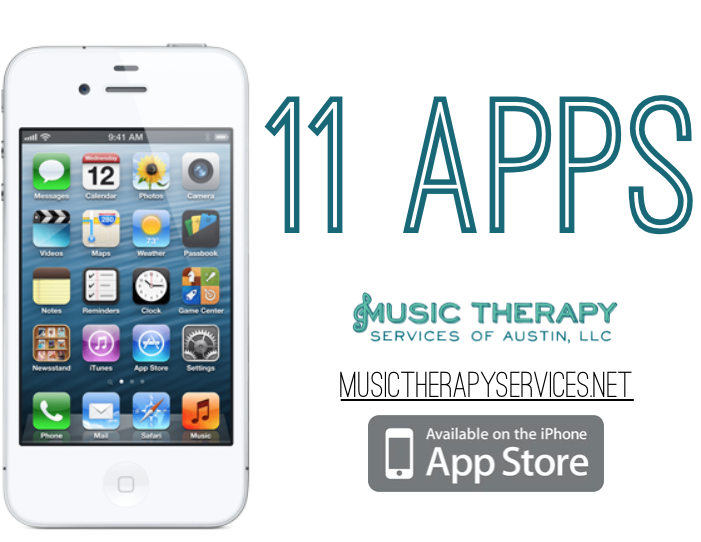 Here is a quick list of 11 of my favorite apps to use in music therapy sessions:
1. Nylon Guitar (Example goal area: Pattern recognition and creation with a 3-chord song pattern)
2. Boogie Bopper (Example goal area: Fine Motor Skills // Finger Isolation)
3.  Bloom HD (Example goal area: relaxation)
4. Keyboard 2 (Example goal area: Letter recognition)
5. Laughter Therapy (Example goal area:  Breath and diaphragm exercises, as well as Impulse control — waiting to choose the laughter button in the song, "I Love to Laugh")
6. Jelly Band (Example goal area:  Auditory Processing – having to listen to therapist list multi-step directions, such as, "Pick the monster that is green and has one eye"")
7. Story Creator (Example goal area:  Self-expression).  You can create songs, ADL steps, etc., in this FREE app.
8. VidRhythm (Example goal area: Impulse Control)
9. Barnyard Dance (Example goal area: Answering "wh" questions regarding the animals in the story: who, what, when, where)
10. Puppet Pals 2 (Example goal area: Story telling and sentence creation)
11. AutoRap (Example goal area: Self-expression)